News Power
An EFMC Monthly News Bulletin: April, 2017
E&F Management Care Center (EFMC)/IHVN ACTION Plus Up Project (AIDS Relief Interventions with System Enhancements - ARISE)
Monthly Report: April 3rd 2017 – April 28th 2017 (Q3M1)
1.0 Executive Summary
In the month of April 2017, EFMC had a strategic review meeting to re-evaluate activities and identify strategies that will enable her achieve and exceed annual targets. Work continued progressively at all supported sites and activities were focused on ensuring delivery of quality services. In addition, EFMC collaborated with IHVN and Solina Health to facilitate several trainings across supported sites in FCT and Nassarawa State. The capacity of supported facility Staff were developed through trainings, mentoring/tracking exercises, and site supervisory visits. EFMC participated in a two-day training on the new National HIV Programme Documentation Tools; Gender Based Violence; Basic Laboratory Information System (BLIS) in Kaduna; CISHAN FCT meeting as well as IHVN Weekly FCT Regional Meeting.
To commensurate the World Malaria Day (WMD), EFMC collaborated with Centre for Family Health Initiative (CFHI) and Society for Family Health (SFH) to provide intervention and commodities in Ante-natal/Immunization clinics at PHCs Idu-Karimo, Kagini and Gwa-Gwa. EFMC had weekly staff capacity building sessions during which the Gender Based Violence was cascaded down among several other things, and a general staff meeting within the month. A new Intern for the Laboratory unit and a support staff were engaged to replace outgone staffs after conducting interview for 6 candidates that applied.
To improve intervention outcomes, EFMC replaced non-performing mentor mothers in Lugbe and Idu-Karmo PHCs, and mentored/supported facility staff and other mentor mothers. We also, facilitated orientation for two newly engaged intern and program volunteer and activated 13 new feeder sites on Idu karimo and Nyanya axes. The EMTCT Unit attended and presented reports on achievement, gaps and challenges at the Nassarawa State PMTCT TWG meeting. The EMTCT Unit participated in a step-down orientation from staff of AHQ unit of IHVN on NigeriaQual exercise and in turn held advocacy and step-down orientation at four supported facilities scheduled to participate in the NigeriaQual exercise. The Unit followed up with the concerned sites to continue reporting on PMTCT option B+ mobile reporting platform, participated in program strengthening activities of the QI team and continued tracking of HEIs due for EID and Final Outcome investigations.
To ensure quality of rapid testing at HIV testing points, EFMC worked in conjunction with laboratory staff from IHVN and Solina Health to facilitate training for all testing points in FCT and Nassarawa state. The Laboratory Unit participated in the Basic Laboratory Information System (BLIS) training in Kaduna state. The Unit produced DTS HIV controls, facilitating the transportation of Viral Load samples to the PCR Lab and retrieval of results, requisition of consumables from IHVN, and the distribution of consumables to facilities. Facilities who had a failed OASYS PT report were followed up on implementation of corrective action. A courtesy visit was made to the office of the new Laboratory managers at MDH and GGH.
EFMC worked in partnership with the facility focal persons to monitor drug supplies to project sites through physical inspection of supplied commodities; identified issues were resolved with the PSM and the 3PLs and short-dated commodities were identified and redistributed to other facilities with higher client load to avoid expiration. To improve the storage conditions of commodities in supported sites the Medical Logistics Unit conducted needs assessment across major sites, and efforts are being made already to address the needs of these facilities.
Likewise, EFMC worked with IHVN to train 10 pharmacy focal persons on LMIS documentations and order placement. We also worked with the PSM and LMCU to update the contact details of the pharmacy/laboratory focal persons of EFMC supported facilities to improve the ease of commodities distribution to the facilities.
In an effort to increase the yield in reactive clients, the Community Unit conducted advocacy visits to some PMVs and medical laboratories of which two of the pharmacies were supplied with RTKs to commence HTS. The Unit participated in the IHVN data validation exercise which was aimed at ascertaining the linkage rates of reactive as well as best practices with regard to use of right algorithm and other SOPs. Also, the unit participated in the Gender Based Violence training organized by IHVN and conducted a step-down training to other staff members. Finally, the Unit participated in the CISHAN FCT meeting; staff capacity building session; improvement visits to facilities and Site preparatory visits for CDC SIMS visits.
2.0 April Facts Sheet
EFMC FY 17

INDICATORS

TOTAL TARGETS

MONTHLY ACHIEVEMENT

TOTAL ACHIEVEMENT

% ACHIEVEMENT

1

Number of individuals who received HIV Testing and Counseling (HTC) services for HIV and received their test results

187296

15,449

121,023

65%

2

Number of individuals who received HIV Testing and Counseling (HTC) services for HIV and tested positive

5187

187

1442

28%

3

Number of infants who had a virologic HIV test within 12 months of birth during the reporting period.

874

15

282

32%

4

Number of new ANC

27583

2166

15,338

56%

4

Number of pregnant women with known HIV status (includes those who already knew their HIV status prior to ANC)

26205

2138

15,335

59%

6

Number of HIV_Positive pregnant women identified

1010

87

458

45%

7

Number of registered TB cases with documented HIV-positive status during the reporting period.

174

38

151

87%

8

Number of TB cases with documented HIV-positive status who start or continue ART during the reporting period.

157

37

145

92%

9

The number of PLHIV who were screened for TB symptoms at the last clinical visit to an HIV care facility during the reporting period.

11594

1449

8716

75%

10

Number of new and relapsed TB cases with documented HIV status during the reporting period.

781

126

475

61%

11

Number of adults and children currently receiving antiretroviral therapy (ART)

11230

146

9222

82%

12

Number of adults and children newly enrolled on antiretroviral therapy (ART)

3761

178

1302

35%

13

Number of staff train/mentored

-

33

133

-
3.0 Graphical Representation of April Fact Sheet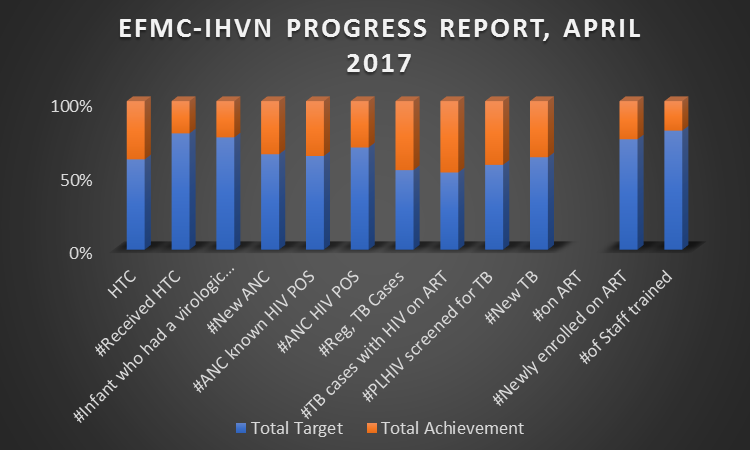 4.0 Conclusion
In a bid to reach more lives, EFMC collaborated with CFHI and SFH to provide Malaria intervention services for pregnant women and nursing mothers attending ANC/Immunization Clinics at Idu-Karmo, Kagini and Gwagwa PHCs. EFMC reached out to over 80 women and children in these locations. The Capacity of staff in supported sites were strengthen through trainings and mentorship. We made a difference and assisted more people live a healthy live.
We appreciate our funders, partners, friends of EFMC and staff of all supported sites for their relentless efforts, prayers, and commitment.
Courtesy: Communication Team
EFMC FY 17

INDICATORS

TOTAL TARGETS

MONTHLY ACHIEVEMENT

TOTAL ACHIEVEMENT

% ACHIEVEMENT

1

Number of individuals who received HIV Testing and Counseling (HTC) services for HIV and received their test results

187296

15,449

121,023

65%

2

Number of individuals who received HIV Testing and Counseling (HTC) services for HIV and tested positive

5187

187

1442

28%

3

Number of infants who had a virologic HIV test within 12 months of birth during the reporting period.

874

15

282

32%

4

Number of new ANC

27583

2166

15,338

56%

4

Number of pregnant women with known HIV status (includes those who already knew their HIV status prior to ANC)

26205

2138

15,335

59%

6

Number of HIV_Positive pregnant women identified

1010

87

458

45%

7

Number of registered TB cases with documented HIV-positive status during the reporting period.

174

38

151

87%

8

Number of TB cases with documented HIV-positive status who start or continue ART during the reporting period.

157

37

145

92%

9

The number of PLHIV who were screened for TB symptoms at the last clinical visit to an HIV care facility during the reporting period.

11594

1449

8716

75%

10

Number of new and relapsed TB cases with documented HIV status during the reporting period.

781

126

475

61%

11

Number of adults and children currently receiving antiretroviral therapy (ART)

11230

146

9222

82%

12

Number of adults and children newly enrolled on antiretroviral therapy (ART)

3761

178

1302

35%

13

Number of staff train/mentored

-

33

133

-