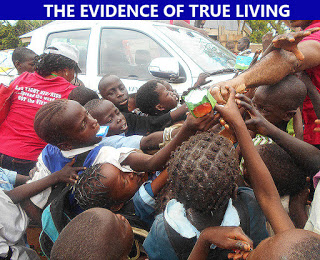 The month of June every year in Excellence and Friends Management Care Centre EFMC is so unique that it brings around a week of provocative, profound and promising experiences to the staff and friends of the organization. It is a month that ushers in series of social activities ranging from lectures, training, networking, promoting social works to touching the lives of the less privileged in the society. The week is marked from 12th to 18th June every year. Besides, it is the birth month of the Chief Executive Officer of the organization which makes it more special.

These activities begin with 21 days fasting and prayers, unit's week of social change, organization's visitations to destitute/indigent homes, awards and gradually dove-tails into the organization's elegant dinner party. The Awards are the organizations way of appreciating staff and friends for being instrumental to the successes recorded so far. Furthermore, friends of EFMC within and outside the country are normally invited to grace this epoch making occasion. Most importantly, during this period staff connect with communities and render selfless services that will impact positively on their lives and the society at large.
This year's Excellence and Friends Week Of Change (EWOC) is billed to be more elaborate as mechanisms for making it a grand and resounding event have been put in place. The CEO; Dr. Obinna Oleribe while charging staff to brace-up for the week advocated for far reaching impact and selfless sacrifices to make the event worthwhile.
Therefore, as we embrace the week of change, staff are charged to screw their courage to striking points in order to make the event quite impressive and unique; the EFMC way. Suffice it to say, that every staff is enjoined to do something impactful to the society for EWOC demands sacrifice and selfless service to humanity.
As we do these, God bless EFMC!