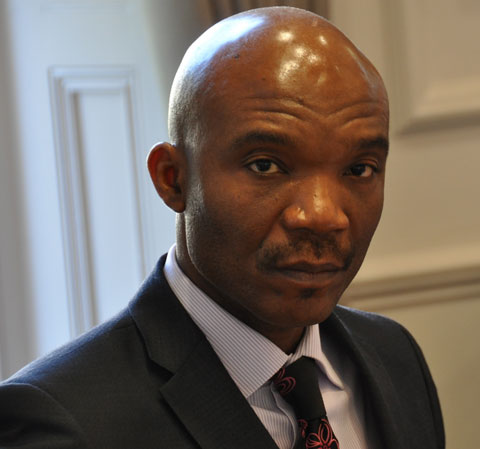 Dr Obinna O E. Oleribe is a certified Project Manager, a PRINCE 2 Practitioner, a Grant Management Specialist and a seasoned Public Health Management consultant trained in Nigeria, United Kingdom and the United States of America. He has Bachelors' degrees in Pharmacology, Medicine and Surgery from the University of Port-Harcourt, Nigeria. He has Masters Degrees in Public Health (MPH) and Business Administration (MBA) from University of Benin and Imo State University, in Nigeria. Dr Oleribe is a Member of both West African College of Physicians and the Nigerian Medical College of Public Health. He currently has two more degrees in view – another MBA and a DrPH. He also obtained additional trainings from United States Centers for Disease Control and Prevention (CDC), South Africa and Uganda. He is well travelled and has worked in several capacities in Nigeria, Tanzania, Southern Sudan, Rwanda and Ghana. He is a trainer in Grant Management, Project Management, Leadership and all aspects of US Financial Regulations including the Mandatory Standard Provision (MSP), OMB A-122, 45 CFR 74, etc. He is currently the Chief Executive Officer/Chief Consultant of Excellence & Friends Management Care Centre, a non-governmental organization providing sustainable public health solutions for all. His recent appointments include Leader of the Health Management Caucus, Association of Public Health Physicians of Nigeria, Project Manager for West Africa, Royal College of Physicians (UK)/West African College of Physicians' collaboration on MDG6 Partnership for African Clinical Trainings (M-PACT) and National Coordinator for the Nigerian Walden University Scholars' Network. He trains, mentors, consults, supervises and certifies individuals and corporate organizations.
He has consulted for – US CDC, US DoD, Harvard University APIN Project, University of Maryland AIDRelief Project USAID MAPS Project, National Malaria Control Program (NMCP), Federal Ministry of Health, IntraHealth/CapacityPlus Project, Federal Ministry of Environment, Federal Ministry of Finance, Akwa Ibom State Government amongst others.
Before his current position, he was the Epidemiology Resident Advisor for Tanzania Field Epidemiology and Laboratory Training Program (FELTP), Dar Es Salaam, Tanzania. In this position, he trained, supervised, mentored and directed Masters in Science (Applied Epidemiology) degree residents of the Tanzania FELTP. Working with Ministry of Health and Social Welfare (MoHSW), Muhimbili University of Health and Allied Sciences (MUHAS), US Centers for Disease Control and Prevention (CDC), National Institute for Medical Research, USAID and WHO he initiated, developed, implemented, monitored and evaluated several new programs in Field Epidemiology in Tanzania.
As a social change agent, he founded several non-governmental organizations including Excellence and Friends Management Care Center, Centre for Family Health Initiative, Anti-Child Abuse Society of Africa (ACASA), and Pro-Child International (PCI), where he held leadership positions. He was also a co-founder of Association of OVC NGOs in Nigeria (AONN), a child oriented organization coordinating activities of all orphans and vulnerable children (OVC) non-governmental organizations in Nigeria. He is also in the Board of several NGOs including Excellence and Friends Management Care Centre, Centre for Family Health Initiative, Modern Health Hospital, International Compassion Centre for Women and Children Empowerment, Association of OVC NGOs of Nigeria, Living Faith Church, Jahi, among others. Also, he is a member of the Nigerian Medical Association, Association of Public Health Physicians of Nigeria, American Public Health Association, West African College of Physicians and the American Society for Public Administration.
Before his present positions, he was the Nigerian Programs Networks Coordinator with the Centers for Disease Control and Prevention, Global AIDS Project (GAP) project under the Presidents Emergency Plan for AIDS Relief (PEPFAR). In this position, he also managed the Orphans and vulnerable children's portfolio of CDC Nigeria. Along with his USAID counterpart, they expanded the program from a few sites to more than 270 sites across Nigeria, initiated the OVC minimum package and longitudinal documentation of care; developed and finalized the OVC Standard Operating Procedure, National Plan of Action for OVC, and Nigerian Children Policy; developed capacity for OVC programs in Nigeria, and supported the implementation of Child Rights Act 2005.
He also served as the Program Coordinator of CDC Sponsored FMOH Nigerian Field Epidemiology and Laboratory Training Program (NFELTP), and Director of Studies of Project Management College United Kingdom.
Dr Oleribe has numerous peer-reviewed journal publications, conference abstracts and presentations to his credit. The books he has authored and published, includes The Fundamentals of Child Rights, The Concept of Child Abuse, Re-positioning for Marital Success and Celebrating Marital Success, which points to the undisputed fact that he is a compassionate and dedicated family man, happily married to one wife with 3 children.
He is a winner of several local and international awards and is a Golden Key International Honours Society (GKIHS) member.